The Prehospital arterial line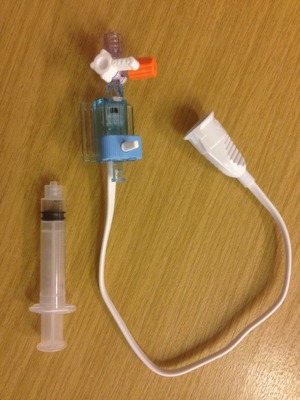 With increasing interest in tailored treatment för cardiac arrest patients There is a simultaneously increased interest in placing prehospital arterial lines.
This is encouraging and increases the potential for a higher quality of care for many types of patients in prehospital critical care. At the same time a lot of reactions questions the feasibility of the procedure. The placing of arterial cannulas is a clinical skill that needs to be perfected over years of experience, However, greater PHCC experience and the recent increased prehospital use of US makes placing arterial cannulas, even in moving vehicles and during CPR, quite feasible. The other hesitation concerns the setting up of arterial line sets. This is, no doubt, time consuming in a scenario that is already fitted in a tight timeframe.
Therefore it is with great pleasure we introduce a suggestion for a "Prehospital arterial line". A normal pressure dome where the "flushing set" is replaced with a normal 10 cc saline syringe. This cuts the preparation time for setting up the set to virtually zero. With the line in place flushing the syringe every 10 mins or so avoids any clot formation. An dditional advantage is that extra fluid lines and bags are minimized. The set is commercially available from several suppliers.
Invasive pressure is a Huge advantage in all critical patients, the prehospital world is no different.
Start monitoring your CC patients correctly and Know what you do.
Hospital quality PHCC! Your patients deserve it!